Custom Service: Huadong can customize underground power cable according to your requirements. Please leave your inquiry cable list and order quantity, our sales team will reply in 12 hours. Email: sales@huadongarmouredcable.com
Quality and low price underground power cable for sale
Generally speaking, the underground power cable is widely used in modern city power system, and it plays a very important role in power transmission and distribution. What's more, this kind of cable also provides a method of connecting power where overhead cable is impractical, difficult, or dangerous for urban construction. Therefore, the phenomenon that high voltage, medium voltage and some low voltage underground cable supplies electricity for densely populated areas, factories and other consumption place is very common in the world. You know there are many kinds of underground armoured cable for sale.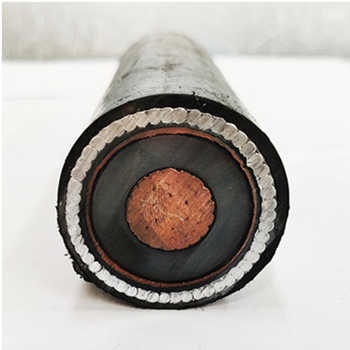 Voltage: 0.6/1kv, 6.6kv, 12/20kv, 11kv, 15kv,33kv
Conductor: Aluminum/Copper
Sectional-area: 16mm, 50mm, 120mm, 150mm, 185mm, 300mm and so on
Armour type:AWA (Aluminium Wire Armoured)
Insulation: XLPE /PVC
Screen: Copper Tape screen
Sheath: PVC and so on
Among of them, 11kv underground cable and 33kv underground armoured cable are most popular. If you are also interested in these hot-sale underground armored cable, feel free to leave your message. We will send the best  185mm underground power cable price to you in 12 hours. When you look for underground power cable for your products, you can find all kinds of products provided by different underground power cable suppliers. That's to say, there are so many types that you can choose however, please remember that the specific type of underground armoured cable need to depend on the operating voltage and service requirements. If you have any question about this underground copper armoured wire price, just contact us. Email: sales@huadongarmouredcable.com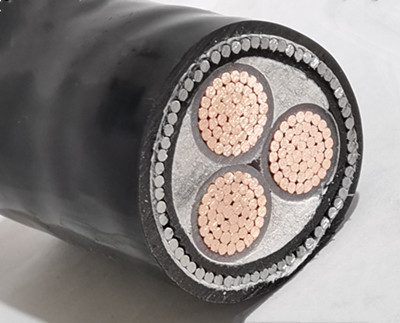 Voltage rating: 0.6/1KV, 1.8/3.3KV, 6.6 kv/10KV, 11KV,15KV,22KV,33KV
Conductor: copper or aluminum
Cores Number: 3 core
Insulation: XLPE (Cross-Linked Polyethylene)/PVC(Polyvinyl-Chloride)
Armoured: SWA (Steel Wire Armour), STA(Steel Tape Armour)
Sheath : PVC(Polyvinyl-Chloride)
What should you know about underground armoured cable?
When we talk about the underground power cables, the first thought of most people is that we bury these wire under the ground. Of course, they are. That means weather and trees will have less affect on this kind of cable, but it must be against moisture, corrosion, mechanical damage and other environmental impacts from the soil. So people need to take some measures to ensure that cable from corrosion and operate normally. That is one of the reason why some wire use armour. Email: sales@huadongarmouredcable.com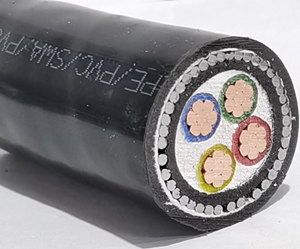 4 core underground armoured cable
Voltage: 600V/1000V
Sectional-area: 16mm, 25mm, 50mm, 95mm, 240mm, 300mm
Insulation: Cross-Linked Polyethylene (XLPE) /Polyvinyl Chloride(PVC)
Armour: STA(Steel Tape Armour)/ SWA(Steel Wire Armoure)
Colour: Black or according to your requirement
And others choose to put their line in hard pipes or the conduits. All of which result in the underground power cable price is much higher than overhead cable. What's more, the aluminum and copper cable prices are also not the same. However, as China professional underground armoured cable manufacturer, we can provide much more reasonable price for you. So, just rest assured to place your order. We believe our superior copper underground power cable price and quality will not let you down. Email: sales@huadongarmouredcable.com

How to find reputable underground copper cable manufacturers?
As we can see, the underground armoured cable has a very wide range of applications. In order to meet the demand for this cable, there are a lot of underground power cable suppliers in the world. We have exported the famous 11kv xlpe cable to many countries. If you want to buy quality and cheap underground armoured cable from reputable manufacturers, Huadong will be your best choice.Email:sales@huadongarmouredcable.com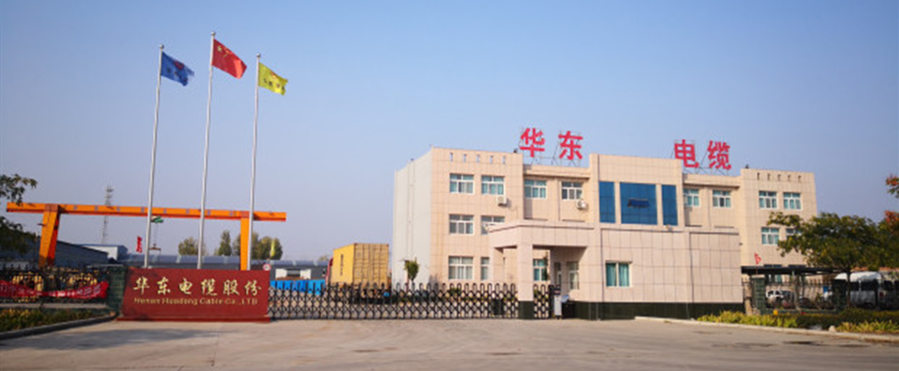 We produce the underground cable with high quality aluminum or copper material and natural XLPE (cross-linked polyethylene)/PVC polyvinyl chloride insulation material. Every production process has been strictly checked by our professional technical engineers. If it is convenient for you, welcome to visit our underground copper cable factory.Email:sales@huadongarmouredcable.com
In addition, we sell the underground armoured cable directly. You can rest assured that no any third party charges extra fee. That means you can get the best underground copper cable price in Huadong. What's more, when your order is large, you can get the discount 33kv xlpe cable. If you want to buy high quality underground power cable with the best price, please leave your message. Our underground power cable products have been exported to more than 30 countries, such as: Russian, America, Yemen, South America, North America, Middle East, Africa, Asia, Oceania countries, etc.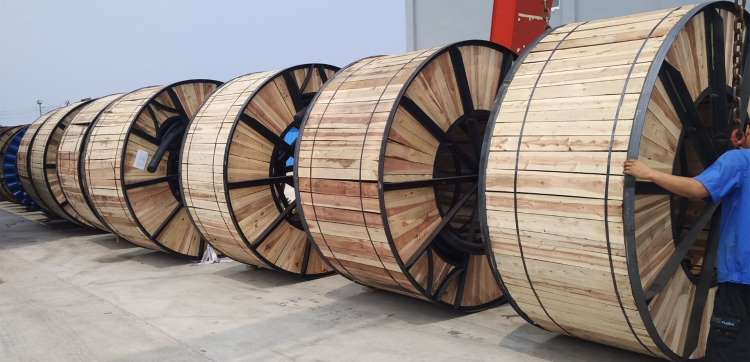 Please feel free to leave your requirement, We will reply you in 12 hours.