PRODUCTS FEATURE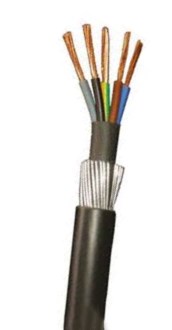 Voltage: up to 35 KV
Cores: 5 core
Section Area: 1.5mm2-300mm2
Conductor: Aluminium or Copper
Armoured: SWA (Steel Wire Armoured)
Insulation: XLPE / PVC
Standard: IEC 60502, BS 7870, GB/ T12706 or other.
Packaging: Iron Or Wooden Drum
Application: Building, Engineered, Railway, Plant Construction, School, Hospital, Underground and so on.
Custom Services:
Huadong can customize all kinds of armoured cable as your requirement. Please kindly send us your inquiry cable list and order quantity, our sales team will reply in 12 hours. Email: sales@huadongarmouredcable.com
High quality and cheap 5 core SWA cable
Like other steel wire armoured power cable, the 5 core swa cable is also used for power transmission and distribution. So the application field of 5 core swa wire is very wide. Generally speaking, you can choose the cable for industrial machinery, heating and air-conditioning systems, power stations, stage applications and other production and life area. You can install them indoor, outdoor or directly bury underground.Email: sales@huadongarmouredcable.com

To meet the requirements of different industry projects, Huadong Cable Group provides all kinds of specification 5 core steel armoured cable for our customers.  We supply large quantity 5 core steel wire armoured cable every year. Such as 4mm 5 core swa, 6mm 5 core swa cable, 10 mm 5 core swa cable, 25mm5 core swa and other cable. If you are also looking for high quality 5 core swa wire, Huadong will be your good choice.
How to make your 6mm 5 core swa cable work normally?
Everything has a life span, and the 5 core swa wire is no exception. What's more, there may be even some troubles with the cable during operation. So you need to take measures to protect these pvc or xlpe swa cable. That can help your power cable work normally and extend their service life. Next, I will take 6mm 5 core swa wire as an example, and share you some advice on 6mm 5 core swa wire maintenance.Email: sales@huadongarmouredcable.com

According to the analysis of operation in recent years, quite a lot of 6mm 5 core swa, 5 core 16mm swa cable, as well as 25mm 5 core swa have faults because of mechanical damage. For example, during laying and installing, it is easy to damage your underground cable.  In order to make your 6mm 5 core swa wire work normally, you need to install the 6mm 5 core swa strictly according to requirements. So that you can prevent your 25mm 4 core swa wire from the mechanical damage owing to external forces.Email: sales@huadongarmouredcable.com

Besides, someone bury the 6mm 5 core swa or 25mm 5 core swa wire directly in an acid-base area. It will often cause cable armour and outer coating corrosion or damp. In this case, Huadong Cable Group suggest that you use an underground pipeline.Email: sales@huadongarmouredcable.com
Of course, there are many other methods to help 5 core steel wire armoured cable operate normally.  Such as make sure the joint is pressed tight, prohibit the wire from running over load for a long time and so on. If you want to know the details, you can visit our website.
Why Choose Us?
Product Process: Our armoured cable use the high quality aluminum/annealed copper conductor material. Every production process has been strictly checked by our professional technical engineers. So we promise that our copper armoured cable price and quality will not let you down. Just contact us to get our competitive 5 core swa cable price. Email: sales@huadongarmouredcable.com

Package & Delivery: Power cable package by iron or wooden drum or according to client's requirement.
Customer Case:As a reliable 5 core swa cable manufacturer, Huadong pays attention to strict inspection of the product. So you can rest assured of our cable. When you choose Huadong Cable Group, you can get the high quality products that you are expecting.Our 5 core 25mm swa wire products have been exported to more than 30 countries. Such as: America,South Africa, Australia, England, Singapore, Malaysia, Philippines and so on. Email: sales@huadongarmouredcable.com
Please feel free to leave your requirement, We will reply you in 12 hours.