600V 14AWG TECK 90 cable for sale
Teck 90 cable is a special armoured power cable. On the one hand, cable teck 90 has superior sturdiness and good resistance to corrosion. On the other hand, this aluminum alloy interlocking armoring cable is famous for its light weigh and the easy installation. That means if you choose the 14awg teck 90 cable, you can reduce the costs of transportation and installation. You know that 4/0 3 core teck 90 cable is suitable for complex environment, like dry, damp or wet place. So teck 4/0-3 core copper 1kv wire application is very wide. For example, we can apply tech 90 cable to mining, pulp and paper, chemical, petroleum and other harsh environments.
Voltage: 600V, 1KV, 5KV

Conductors: Copper or Aluminum

Armour : Aluminum Alloy Interlocked Armour

Insulation: Cross-linked Polyethylene (XLPE)

Jacket: Polyvinyl Chloride (PVC)

Temperature Rating: -40°C to 90°C
And there is no need for conduit or pipe. You can just bury the 14awg interlocked aluminum alloy armoured cable directly under the ground. Are you interested in this hot-sale 1kv teck 350-3c copper cable? Then you can leave your message. And we will send the 14awg teck 90 cable price to you as soon as possible. Email: sales@huadongarmouredcable.com
Where to find professional 12AWG teck90 cable manufacturers?
It is clearly that teck 90 has a very wide range of applications. So there is a great demand for multi-conductor, 600 v, 3×10 awg teck cable every year. When you are going to buy tech 90 cable, you need to find a reputable supplier. Huadong is a professional teck 90 3c 2/0 awg 5kv cable supplier from China. What' more, we can also provide large quantity cable 1kv 3×250 + 1×4 teck 90 cable for you. We produce the interlocked aluminum alloy armor cable in accordance to the international standard. You can choose the 12/2 aluminum conductor or copper conductor for your projects. Just tell us teck cable size you need. Email: sales@huadongarmouredcable.com

Being one of the biggest 10C #14 awg teck cable manufacturers, huadong has over 30 years of production experience. In our teck 90 3 Core 5kv #2 awg factory, there are advanced equipment and professional workers. What's more,our 16mm 4 core armoured cable are very famous in the world. In order to make sure the quality of 3 core teck cable, Huadong pays attention to every part during the production process.Email: sales@huadongarmouredcable.com

We choose superior aluminum and copper materials for our tech 90 cable. What's more, we have a strict inspection system to control these pvc jacketed interlocking armor cables quality. Besides, all these 10C # 14awg teck 90 cable will be examined before delivery to our customers.  In addition, if you want to know more price of 3 core 5kv teck90 cable, feel free to contact us. What's more, if it is convenient, you can visit our 350-3 core teck90 cable factory. We are looking forward to your coming.
Compare TECK 4/0-3C cable price
Huadong Cable Group are engaged in the manufacture, export and supply of a superior range of 600v, 1kv, 5kv 3 core teck cable. We has exported our 12/3 teck90 cable to many countries and areas. So we can supply 4/0 3 core teck 90 cable price in Canada, America, Indonesia, Malaysia, Vietnam, Philippines, Germany, Spain and so on. In addition, we have established close cooperation relationship with many enterprises. If you want to find a 12/2 teck cable supplier with good reputation, Huadong will be your best choice. Email: sales@huadongarmouredcable.com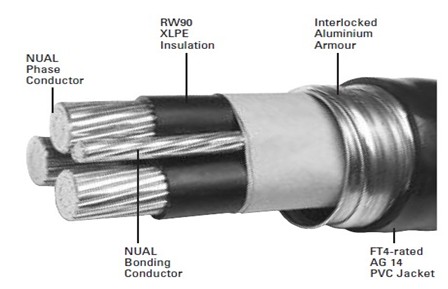 In addition, the 8/3 teck 90 cable price of Huadong Cable Group has a great advantage. From the 600v 6/3 teck 90 cable price lists, you may find that our price is very reasonable. Because Huadong sell tech 90 cable directly, and there is no third party for extra fee. So you can get low price 10/3 teck 90 cable. On the other hand, China has richer aluminum resource. Therefore, we can get cheaper acwu aluminum interlock cable. Thus our 3 core teck cable prices is more reasonable comparing to foreign companies. Email: sales@huadongarmouredcable.com

Do you want to get theTECK 4/0-3C cable best? Please leave your message and we promise to give you the best teck90 cable quotation.
Please feel free to leave your requirement. We will reply you within 12 hours.