Teck Cable Application:
For concealed wiring in dry or wet locations
For exposed wiring in dry or wet locations
For exposed and wiring in dry, locations where subjected to corrosive
action if suitable for corrosive conditions encountered
For exposed wiring where subjected to the weather
For use in ventilated, Non-ventilated and ladder-type cable trays in dry or wet locations
For direct earth burial (with protection as required by inspection authority)
For service entrance above or below ground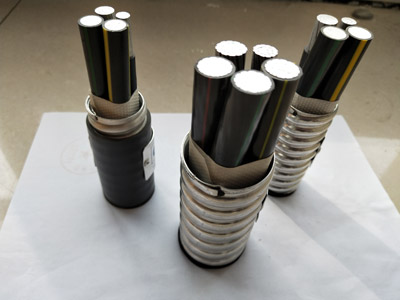 Teck Cable-Copper/Aluminum Condutor Construction:
Conductor: Round concentric lay class "B" stranded copper or aluminum
Insulation: Cross-linked Polyethylene (XLPE) Type RW90
Colour Coding: Black, white,Red,Blue (5 – 50 Conductor: black with printed number code)
Bonding Conductor (Ground): One (1) bare stranded class "B" copper conductor
Inner jacket: Polyvinyl Chloride (PVC), black
Armour: Aluminum interlocked armour
Outer Jacket: Low acid gas, flame-retardant, moisture and sunlight resistant Polyvinyl Chloride (PVC), black
Teck 90 Cable Standards:
Industry compliances: CSA Standard C22.2 No. 131, No.38 and No.2256, RoHS
Flame test compliances: CSA FT4
Hazardous Location, SUN RES (outer jacket) SUN RES on inner jacket
and insulated conductor available upon request, Direct Burial
Acid Gas: CSA AG14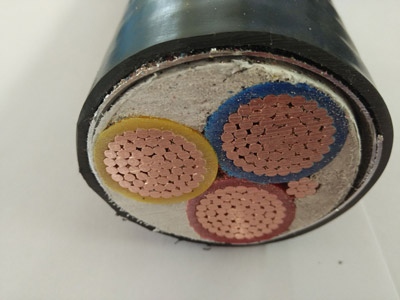 Teck 90 XLPE Cable Characteristics:
Rated at 90°C wet or dry
Excellent crush resistance
Provides long service life
Cost effective alternative to installations in conduit
Meets cold bend and impact tests at (-40°C)
TECK 90 MC Cable 600V
Phase Conductor
-
-
- Material
-
Copper
Aluminum
- Number of core
-
4
3
- Size
AWG
12
350
- Diameter
mm
2.3
16.8
Insulation
-
-
- Material
-
XLPE
- Nominal thickness
mm
1.15
2.45
- Insulated diameter
mm
4.6
21.7
Grounding conductor
-
-
- Material
-
Copper
Aluminum
- Number of core
-
1
1
- Size
AWG
14
1/0
-Diameter
mm
1.8
9.2
Cabling
-
-
-Material
-
PP tape 
-Thickness
mm
0.2
Inner sheath
-
-
-Material
-
PVC
-Thickness
mm
0.76
1.65
Interlock Armor
-
-
-Material
-
Aluminum Alloy Tape
-Thickness*width
mm
0.65*9.5
0.65*19.05
Outer shetah
-
-
-Material
-
PVC
-Thickness
mm
1.02
1.27
Finished cable
Approximate overall diameter
mm
21.5
59
Approximate weight
kg/km
480
3240
Electrical Characteristics
-
-
D.C resistance at 20°C
Ohm/Km
≤5.31
≤0.105
Test voltage
-
3.5kv
8.0kv
Why choose the teck90 cable from Huadong?

Huadong Cable Group are engaged in the manufacture, export and supply of a superior range of TECK ACWU MC AL/XLPE/PVC/AIA/PVC 600V 3C# 350kcmil + G Cable. We has exported our teck90 cable to many countries and areas. such as: Russian, America, Yemen, Malaysia, Singapore, Italy, United Kingdom, South Africa, Australia and so on.Email: sales@huadongarmouredcable.com
In addition, we have established close cooperation relationship with many enterprises. If you want to find a TECK MC CU/XLPE/PVC/AIA/PVC 600V 4C# 12 AWG+ G supplier with good reputation, Huadong will be your best choice. Email: sales@huadongarmouredcable.com
In addition, Huadong Cable Group has a great price advantage. From the teck cable price lists, you may find that our price is very reasonable. Because Huadong sell TECK Cable – COPPER/ALUMINUM CONDUCTOR MULTIPLE CONDUCTOR XLPE/ALUMINUM ARMOURED/ 600V directly, and there is no third party for extra fee. So you can get low price teck90 cable.
On the other hand, China has richer aluminum resource. Therefore, we can get cheaper aluminum raw material. Thus our teck cable prices is more reasonable comparing to foreign companies. Do you want to get the teck 90 cable best? Please leave your message and we promise to give you the best teck90 cable quotation.
Please feel free to leave your requirement. We will reply you within 12 hours.