Custom Services:
In order to meet the needs of our customers, we provide lots of swa cable in different sizes. Feel free to leave your inquiry cable list and order quantity, our sales team will send our offer documents within 12 hours. Email: sales@huadongarmouredcable.com
Huadong low price swa cable for sale
Swa cable is abbreviation for steel wire armoured cable, which is a hard-wearing power cable designed for electricity transmission and distribution. The application of swa cable is very wide and it has a very close relationship with our lives and industry activities.Email: sales@huadongarmouredcable.com

We usually apply steel wire armoured cable for construction, petrochemical, mines, mechanical manufacturing, transportation, heating and air-conditioning systems, power station and other fields. Huadong Cable Group is a leading steel wire armored cable supplier from China, we provide a comprehensive range rugged and durable low voltage and medium voltage swa cables in accordance with British, American and International standards. When your projects need swa armored cable, Huadong is your best choice. Email: sales@huadongarmouredcable.com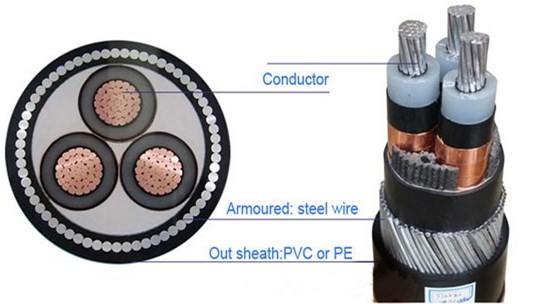 Generally speaking, the construction of swa armoured cable comprises five components.
Conductor: stranded copper or aluminium core. You know that both of them has good conductivity.
Insulation: materials such as cross-linked polyethylene (XLPE), polyvinyl chloride (PVC ) or ethylene propylene rubber (EPR), which can provide high temperature resistance and excellent dielectric strength-providing enhanced electrical properties.
Bedding: a layer to create a protective barrier between the insulation and the armour.
Armour: a steel armour provides mechanical protection to allow the cable to withstand the mechanical tension and pressure.
Sheath: the constituent parts of the cable are held together by a sheath offering a further level of protection. Black sheaths can be carbon-loaded for UV stability.

The voltage ratings of swa cable manufactured by Huadong is 600/1000V, 6.35/11kv and 19/33kv. What's more, some steel wire armour cables in our company have conductor shield, insulation shield and metal shield. If you want to know more information about swa cable, you can visit Huadong Cable Group website and leave your message, we will reply in 12 hours.
What is the property of steel wire armoured cable?
As mentioned above, the swa steel wire armoured cable is a very common power cable in industry fields. And many projects choose this kind of cable to transmit and distribute electricity. Why is steel wire armoured cable so popular? I think the following property of swa cable may be the main reason. Email: sales@huadongarmouredcable.com


Excellent mechanical strength. As its name suggests, there is a steel wire armour layer in the swa cable construction. So the swa cable has excellent tensile and pressure resistance. That is why we choose it to support elevator operation. We believe that Huadong swa armoured cable will supply the enough mechanical strength for your projects. If you buy this cable, contact us and we can send swa cable prices to you.
Good corrosion resistance. The armour layer not only can enhance the mechanical strength of the cable, but also can improve the anti erosion ability. For example, you can directly bury the xlpe swa cable in free draining soil, outdoors, indoors, underground systems and in cable ducting. Even in the areas where prone to mechanical damage and corrosion, you can use any kind of way to steel wire armoured xlpe cable. It is also suitable to bury in rock areas.

Superior anti external performance. Generally speaking, one of steel wire armour layer properties can protect against mechanical damage. For example, it can prevent rats from biting so that they don't cause power transmission problems through armour. That's to say steel wire armoured cable has longer service life.
Of course, there are other performance of swa cable, if you want to know more, just contact us.

How to get the most reasonable swa cable price?
From steel wire armoured cable prices list, you may find that Huadong Cable Group has a great advantage. Because we are a manufacturer, not just a supplier. You know that we sell the products directly and there is no third party for extra fee. So you can get cheap swa cable in Huadong and it is unnecessary to worry about high swa cable cost. Because there are different swa armoured cable specification, the swa cable prices are not the same. If you want to know more details, please visit our website and contact us. Email: sales@huadongarmouredcable.com