PRODUCTS CONSTRUCTION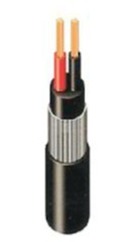 Conductor
: Aluminum or Copper
Armoured:
SWA(Steel Wire Armoured)
Insulation:
PVC/XLPE
Cores:
2 core
Section Area:
1.5mm2-300mm2
Standard:
IEC 60502, BS 7870, GB/T12706 or other.
Packaging:
Iron Or Wooden Drum
Custom Services:
 We can customize
SWA cable
for you. Please kindly send us your inquiry cable list and order quantity, our sales team will reply in 12 hours.
Email: sales@huadongarmouredcable.com
The Products You Might Be Interested In
| | | |
| --- | --- | --- |
| 3 core swa cable | 4 core swa cable | steel tape armoured cable |
If you are looking for power cable for your projects, please feel free to leave the cable specification and quantity you need. Huadong promise to provide the best price for you.Email: sales@huadongarmouredcable.com
High Quality & low price  2 core swa cable for sale
2 core swa cable is a kind of steel wire armoured cable. These power cable for fixed installations such as distribution networks or industrial installations. The application of 2 core swa is very wide and it is closely related to our lives. For example, we usually choose 2 core steel wire armoured cable for industrial machinery, heating and air-conditioning systems, power stations, stage applications and other fields. Email: sales@huadongarmouredcable.com


To meet all kinds of projects requirements, Huadong cable Group provides 2 core steel wire armoured cable with different sectional area, such as 4mm 2 core swa cable, 6mm 2 core swa, 10 mm 2 core swa, 25mm 2 core swa cable and so on. When you choose these armoured power cable, please remember that the section of the cable core shall meet the requirements for the stability of the short circuit of the power supply system. What's more, we also have 2 core steel tape armoured cable for sale. If you need, feel free to leave a message and tell us the specification.Email: sales@huadongarmouredcable.com

What is the characteristic of 2 core swa cable?
As we all know, the steel wire armoured cable can increase the mechanical strength of cables, that is to say it can help the 2 core power to improve the tensile and compression ability.
What's more, armored cable has a certain anti-external force function. For example, it can prevent rat bite, which can protect your cable from some transmission problems. Just like 10 mm 2 core swa will has longer service life than 10mm 2 core cable.Email: sales@huadongarmouredcable.com

Last but not the least, these cable can enhance the ability to resist erosion, which makes it very suitable for the areas prone to mechanical damage and erosion. You can choose any way to lay, more suitable for rock areas of direct laying.
Huadong Cable Group hopes that these information of the application and characteristics of 2 core steel wire armoured cable will help you. And if you still have any questions, please contact us and we are willing to help you.
How to find reliable 2 core swa cable manufacturers?
You know that there is a large demand for 2 core swa cable in the world. As one of the leading 2 core steel wire armoured  cable suppliers, Huadong provides a lot of 2 core swa cable in different size.

Production Process: We produce 2 core swa power cable with high quality aluminum/annealed copper conductor material and natural XLPE (cross-linked polyethylene)/PVC polyvinyl chloride insulation material. Every production process has been strictly checked by our professional technical engineers.


Package & Delivery: Power cable package by iron or wooden drum or according to client's requirement.


Customer Case : Our customers come from more than 30 countries and regions in the world,such as:Southest Asia,Norh America,South America,European,Meddle East,Africa,Oceania etc

Please feel free to leave your requirement, We will reply you in 12 hours.